London Frontier Theatre Company
Coming Attractions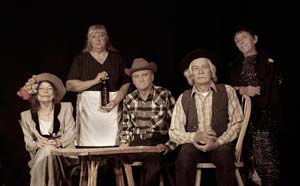 Two aging outlaws return to No Springs, NM, the roaring cowtown they remember from their heyday in the 1890's, only to find it's now – 1919 – a dusty remnant of its rowdy past. But Babe and Beau have almost 30 years of living to make up, and neither law nor time has "tamed and tidied" the larger-than-life, dare-anything pair.
BABE & BEAU takes a humorous and penetrating look at what creates legends ("what we wanted to be – or do – and weren't, or didn't") and the truth about aging. (As the retired local madam says – with a knowing smile – "...if you're old; they think you can't sin any more.").
A mock holdup of an automobile by a mounted bandit is to be part of the town's first annual "Outlaw Days" celebration. But complexities of modern life and a yen for a "last hurrah" tempt even the dour local sheriff to attempt something more "authentic."
Video of timeless Western scenery, as well as photos of long-gone people and places, interweave with stage action, carrying audiences on a journey back to a time when life and landscape seemed to stretch endlessly in an epic adventure.
Nostalgic period music – including the theme, "I'm Just as Young as I Used to Be" – is performed by Mont L. Laster (author's grandfather) and Friends, recorded from live radio shows (circa 1955) in Clarksville, Arkansas. Banjo, fiddle, piano, guitar and vocals shift the mood from lively to sentimental, country/folk to ragtime to waltz.
BABE & BEAU is a rollicking "Romance of the Old West", a story of the deathless love of life, adventure and each other that we all yearn for and a few "outlaws" seek to create.
Actors in BABE & BEAU are Frank Howard, Ruth Ryan, Donna Todd, Donald Wiltshire, and Bennie Zamora. Set and lighting design/construction are by Donald Wiltshire, LFTC technical director, and Ron Thornton; Ron also runs lights and sound, with Terry Stone as video projectionist. Video and scenic presentations in the show were filmed and edited by Michael Mideke, LFTC videographer, who was also consultant on script development. Additional video is by Nan Weber. Donna Todd is author and director. House manager is Thelma Reynolds.
All performances are at Magdalena's historic WPA Theatre, Main at Fourth St. For further information, updates, and reservations, please visit our website www.londonfrontiertheatre.com, contact us at 575-854-2519, or email at londonfrontier@gilanet.com.
Major funding by the Kerr Foundation, the McCune Foundation, USDA "community facilities", Socorro Electric Coop., and LFTC,s "Friends of the Theatre."
---
LONDON FRONTIER THEATRE COMPANY, now in its historic WPA venue and 13th season in Magdalena, presents a wide variety of plays from original scripts, ensemble work, and classic and contemporary writings, incorporating our area's vivid history, legend, and multi-culture to create exciting, entertaining theatre.
---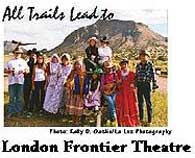 History of London Frontier Theatre
LFTC's first presentation in New Mexico, STAGECOACH TO DECAMERON (for Magdalena"s Old Timers Days, 1996) was adapted from Boccaccio"s 14th-C. Italian Decameron Tales to the 1870's West. The stories, romantic to madly farcical, played to enthusiastic response.
LONG ROAD, FREE WIND (Nov., '96) dramatized lives of frontier women, while the Feb., '97 show left the West to recreate Dorothy Parker's urbane, witty 1920's New York in YOU MIGHT AS WELL LIVE. THE TREASURE OF MAGDALENA MOUNTAIN (July '97) wove legends of treasure and its seekers with Magdalena's Lady on the Mountain. THAT DAMNED POE was an eerie blend of Poe's life/writings, and '97 ended with THE LONG RIDE OF ST. NICK, (reviewed as) "a darkly different comedy with hauntingly sincere performances." ONE WAGON WEST OF NOWHERE – the adventures, romances, and hilarious misconceptions of two women joining forces to come West – was Old Timers '98 fare. Revived by popular demand in March, 2000, it again played to full houses/ delighted audiences. COME HOME FOR CHRISTMAS, JESSEE was '98's nostalgic holiday play.
An entertainment with music, THE LADY THAT"S KNOWN LOU (from R. Service poem) was part of the Spring Arts Festival; WHO SHOT SCOTT? '99) was a farcical play-within-a-play; and 1999's seasonal play, AND TO ALL A GOOD NIGHT! combined legends of Christmas, Chanukah, Winter Solstice, and Navajo dancers in a wildly-funny yet touching re-telling of the Great Story.
Stories by Mark Twain, Bret Harte, and Owen Wister were staged in LEGENDS OF THE LOST FRONTIER (July, 2000). THE DEVIL RODE WEST offered ghostly tales from New Mexico"s Hispanic/Anglo/Navajo lore. November"s dramatization of local author P. V. Ford"s story, IN THE LURCH, received rave reviews; and LONG RIDE returned, with added music, as holiday fare.
Serial theatre began in March, 2001, when the Aragons and Trotters came to life in THE LUCK OF LOST WIFE CREEK, set in 1930's rural NM. Roosevelt"s New Deal has begun; dreams of lost gold, stardom in "talkies" and a Spanish land-grant vie with reality of drought, a n"er-do-well son, and a decrepit old flivver, all rollicking along to bluegrass banjo. LUCK was also Old Timers fare, with an added act of "previews" of upcoming episodes. TREASURE returned, with script development, in Oct., 2001; a review called it "a witty and imaginative piece...well worthy of constant revival." THE TRAIL OF LONESOME TREE: A Lost Wife Creek Christmas was (review) "A lovely play...acting was straight and true....set and lighting excellent and evocative." LOVE COMES TO LOST WIFE CREEK (Feb, 2001), was followed by DON QUIXOTE OF LWC and MAY DAY! ON LWC. July"s play was a satirical Historical Epic, ENCHANTMENT! The series continued in Oct. with DARK MOON OVER LWC, and 2002 ended with WANDERING STAR and LITTLE GLORY, A LWC Christmas.
An expanded version, with ballads, of LONG ROAD, FREE WIND opened the 2003 season and toured, including a benefit performance for the Lincoln Co. Historical Society. For Old Timers, A LAND WITHOUT FENCES mixed tales of the Old West with modern NM and the lives of a boy and his grandmother with Alzheimers. LUCK reappeared in Sept., followed by FIDDLERS HARVEST ON LWC, and a lively new version of GOOD NIGHT! gave a particularly New Mexican slant – Saint, Shepherd, Outlaw, La Llorona, Jewish Elf, and DanceHall Christmas Fairy – to the holiday season. LOVE COMES TO LWC opened the 2004 season, followed by the nostalgic LWC MEMORIES.
STAGECOACH returned in July, to acclaim: "I'm still reeling over your production! What an incredible performance. You just always blow me away but this one definitely was the best! Wow!" (Gwen Roath, Editor, STEPPIN" OUT.) The Dias de los Muertos/Halloween show, FULL WAGON FROM ETERNITY, resurrected NM"s restless ghosts, from Coronado to Kit Carson, O"Keefe to Mabel Dodge Luhan, La Llorona to ancient tribal spirits of the Enchanted Land.
"Small-house, experimental theatre at its best" was a reviewer"s accolade soon after the theatre was founded in Salt Lake City, Utah, in 1991. Magdalena's resident theatre since 1996, LFTC creates and presents a wide variety of plays, adapted to its Western setting, from original scripts, ensemble work, and adaptations of literary classics and contemporary writings, incorporating the area's vivid multi-cultural history to create exciting, entertaining theatre. Presentations are at Magdalena's historic WPA Gym, which LFTC is in the process of purchasing – a permanent home for London Frontier Theatre Company.