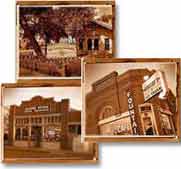 Take a virtual stroll through our historic village. Contact information is included when possible.
Village Hall and Library

North Main Street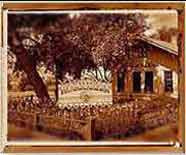 Magdalena's Village Hall and Library are located in the old Santa Fe Railroad Station building just off Main Street. Restored to its former glory, the building houses Magdalena's Public Library, the Village Government office and a meeting room adorned with historic photographs of the region.
Village Hall – (575) 854-2261
Village Library – (575) 854-2361.

Top
Box Car Museum

North Main Street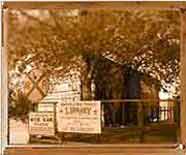 The Box Car Museum displays old photographs and objects of yesteryear's frontier life. The park bench area on the old train station loading dock is a great place to rest under the shade of the cottonwood trees and imagine what life may have been like in this old west town.
To visit the museum, call the Village Hall at 575-854-2261 for visiting hours.

Top
Magdalena Ranger Station

US 60
The Magdalena Ranger Station, manages nearly 800,000 acres, the largest district in the Cibola National Forest. The district has two wilderness areas, some 200 miles of trails and 500 miles of maintained roads.
For more information and maps, drop by the District Office or call 575-854-2281.

Top
Salome Store & Warehouse

US 60
Salome General Store began operation at the turn of the century. The store once supplied ranchers, miners and town folks with a variety of general goods.

Top
Commercial Building

North Main Street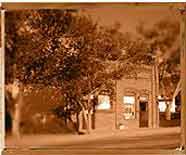 This was the original Magdalena Mountain Mail building, located on North Main Street. A well-loved local newspaper that served up news and comments for the region on a weekly basis. The newspaper is still thriving today, now located in Socorro.

Top
The Western B & B

US 60
Experience a unique Bed and Breakfast experience in what was once known as Mrs. Butterfield's Lying-in Hospital where expectant mothers would come in from the surrounding ranches.
Call (575) 854-2417 for reservations.

Top
High Country Lodge

US 60
The High Country Lodge, originally named the Ranchman's Inn, was once the destination of cowboys, ranchers and cattle buyers at the end of a long cattle drive. It was here that cattle deals were struck in the bar during the last years of this country's final commercial cattle drives. Today the bar is replaced by a dining room known as The Sunflower Cafe, featuring elegant dining in a relaxing environment for the townsfolk. Cowboys still take lodging here during the fall round-up season.
Call (575) 854-2062 for reservations.

Top
All photographs © Rolf Magener. Not to be used without permission of the photographer.