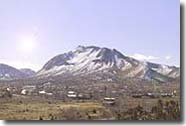 Historic Magdalena New Mexico
A community rich in history...
Stay and explore our history and natural beauty
The Village of Magdalena is an incorporated village with its own governing body, nestled in among the beauty of some of the most scenic mountains, trails and historic buildings. Located at an elevation ranging from 6,548 feet (Magdalena) to 10,783 feet (South Baldy Peak) and an area population of approximately 1200, the small town atmosphere is host to some exciting and vibrant changes. Over the past few years many new businesses have opened their doors to serve the local population and travelers.
The perennial mild climate makes this a great year-round destination with temperatures for this area ranging from around 19°–60's (fall/winter) and 43°–90's (spring/summer), with mountain breezes and summer monsoon showers.
There are several historic buildings, still to be found in Magdalena, and several of these today are home to active businesses and private homes. Magdalena is undergoing a "face-lift" and is being recognized for its growing arts community, place to stop, shop and stay a while. The Historic U.S. Route 60 is home to one of the most delightful towns, numerous galleries, stores, hiking trails and other events and attractions.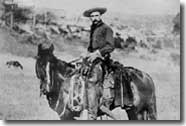 The history surrounding Magdalena is rich with Old West Legends, Dusty Cattle Drives, Pioneer families, Main Street Shoot-outs, Fiery Ranchers and Grimy-faced Miners. This history just adds to the many area attractions. To name but a few of those attractions:
Trail's End
Magdalena is known as the "Trails End" for the railroad/spur line which was built in 1885 from Socorro to Magdalena to transport the cattle, sheep wool, timber and ore. Thousands of cattle and sheep were driven into town (cowboy style) from the west, using the historic "Stock Driveway", aka "Hoof Highway." The original historic stockyards are still intact.
This historic Stock Driveway was used annually, from 1885 through 1916 when the driveway was officially designated by law through the signing of the "Grazing Homestead Act" and was continually in use through 1971.
The 125 mile driveway extended west to Datil, New Mexico then forked south toward Horse Springs and Reserve, New Mexico, while the other fork led to Springerville, Arizona.
The drive was 5 to 10 miles wide and covered 200 square miles. The peak trailing year, 1919, saw 150,000 sheep and 21,000 cattle pass the point around Ten Mile Hill.
The Civilian Conservation Corp., (the CCC) boys fenced the driveway in 1930, and drilled a well about every ten miles.
During the drives cowboys moved about 10 miles a day, and herders moved sheep about 5 miles a day, allowing them to graze as they went. Chuck wagons and relays of horses followed behind. Trailing gave way to trucking, and the last portion of the driveway was officially closed in November of 1971.
Mary Magdalene
Mary Magdalene (aka "Lady on the Mountain") gazes down from the Magdalena Peak today as she has for centuries, keeping a watchful eye over her town.
Kelly Ghost Town
The "Ghost Town of Kelly," located just minutes from Magdalena, was in its day home to close to 3,000 people, with shops, doctors, saloons, churches, hotels and schools. Mining bought prosperity to the area in the early 1880's, but when the ore played out this town was slowly vacated, leaving a small whitewashed church, crumbling foundations, remnants of mine works and a cemetery.
With a visitor's pass you can still visit the Kelly Mine and just by chance you may come across a resident ghost.
Arts & Specialty Shops
As you drive through Magdalena you will find numerous Galleries, Arts & Crafts Stores, and Specialty Stores which feature a variety of artworks by local artists, non-local artists and Native American artisans. Cowboy art, rustic furniture, Southwest furniture, handcrafted Navajo Jewelry, curious and collectables make shopping in Magdalena a memorable event. Why not take home a gem and/or mineral found in the surrounding mountains or local rock shops?
Lodging & Dining, Conveniences
Local motels, RV parks, and B&Bs have above-average accommodations for those who wish spend some time enjoying the natural beauty and history of this area. (One of the motels was an old hospital in the 1930's, known as the Butterfield Laying-in Hospital.)
Several cafes/restaurants are housed in historical buildings scattered throughout Magdalena, and serve a wide variety of foods. The only remaining bar/lounge (there were several at one time) has regular events from music to pool tournaments.
Modern-day conveniences such as a bank, grocery store, real estate offices, convenience store and gas stations line Hwy 60.
Historic Buildings
Tour historical buildings some of which were built in the early 1900's as you shop.
Some of the area history can be found in the Magdalena "Box Car Museum", which is located next to the restored Santa Fe Railroad Depot, which is now home to the Magdalena Village Offices.
The old "Ocean to Ocean adobe building" housed a gas station, car dealership, telephone and telegraph company, beauty shop, shoe and saddle shop and even a bath house (where the cowboys use to come in and pay about 25 cents to take a bath, they heated water out side for these baths). It is now home to a "Co-op Gallery"
The "Old Wool Warehouse", built in 1913, as a mercantile outlet for wool and hides, displays a broad selection of antiques and gifts, including a floor which came out of the first Hilton Hotel in Socorro.
The "Charles Ilfeld Building", was built in 1913, as a mercantile outlet and is now a private residence.
At the Magdalena Feed Company, this old building was known as the "Badger/ Bruner Warehouse", and was built in the early 1900's to store hay, and also housed the local mail and at one time a Forest Ranger Office.
Now a mercantile, furniture and clothing store, the well known "Salome Store" building was built in 1917, and has a unique history.
Special Events
Magdalena is host to some growing special events, the largest and most famous of which is the Magdalena Old Timers Reunion, a three-day event hosted by the locals in memory of the "Good Ole Days" every 2nd weekend of July. Events include rodeos, parade, street dance, theatre, BBQ, arts and crafts and much more. The Magdalena Rodeo arena/grounds, located at the north end of Main Street, is said to have housed the first U.S. Rodeo.
Then there is the Parade of Lights hosted by the Magdalena galleries, the Spring and Fall Arts Festivals along with the occasional Music Festivals.
Be sure and book your lodging early for any of our special events!
VLA
Before you leave Magdalena (if you leave Magdalena!!), why not take a drive West (just 20 minutes), along Hwy 60 and tour the famous VLA (Very Large Array), aka National Radio Astronomy Observatory, on the Plains of San Augustine, where you will find a walking tour of the facility and gifts and interesting data available from the on-site visitors center.
So, now that you have but a small taste of our heritage, don't miss the opportunities of adventure and history known to be a part of Magdalena. There are numerous other "Special Events" which occur throughout the year and we highly recommend that you prepare for your visit by visiting the Magdalena Chamber of Commerce web site or call toll free, 866-854-3217, for more detailed information.
Excerpted from an editorial provided by the Magdalena Chamber of Commerce August 2007
Historical facts checked by Dolly Dawson